OnePlus Nord 2 review
Return of the flagship-killer
September sky events
Meteor showers, a comet, asteroids and more
CNBC-TV18Jan 04, 2023 17:21:37 IST
Nokia — the name invokes an indelible sense of nostalgia for anyone in their mid-30s or older. Remember those days in college when you would flaunt your first-ever mobile phone, which almost always was a solid brick made by Nokia? Those phones were so indestructible and indefatigable; if you couldn't use it, you could at least throw it at someone in self-defence.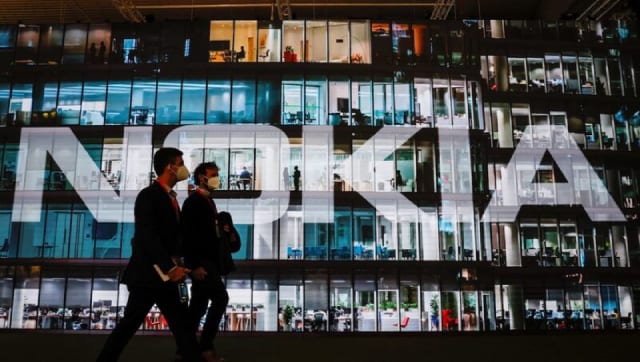 The onset of the smartphone — and the rise of Apple and Samsung — gradually nudged Nokia off its throne. From a dominant 49.4 per cent market share in 2007 to a steady decline over the years to an all-time low of 3 per cent in 2013, the Nokia brand appeared to be all but finished.
That was not for a lack of trying. The Finnish company tied up with Microsoft to offer a range of smartphones powered by the Windows Mobile OS, under the Lumia brand. And they were received well — Lumia smartphones were known for their quirky design, bold colours, truly special cameras and a super-smooth user software experience.
The then-CEO of Microsoft Steve Ballmer displays a Nokia Lumia 920 at a launch event on October 29, 2012. (Image: News18)
However, they were too late to the game and, in 2014, Nokia sold its smartphone business to Microsoft for around $7 billion, and walked out into the sunset. It wasn't long before Microsoft, after releasing a handful of its own branded Lumia devices, threw in the towel and retired the Lumia lineup and with it, buried Nokia's legacy.
As seen in the chart below, Nokia went from a global sales high of 51.06 billion euros — the year Steve Jobs announced the first iPhone — to an all-time low of 11.76 billion euros when the company sold its smartphone business to Microsoft.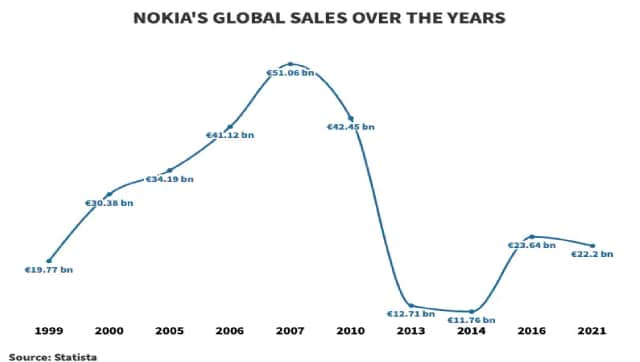 Suddenly, in 2016. Finnish mobile manufacturer HMD Global announced that it bought Nokia's mobile business back and would be selling mobile phones — this time powered by Android — once again under the storied brand. Since HMD Global revived the brand, the Finnish icon clocked sales in the neighbourhood of 20 billion euros consistently till the end of 2021, as per Statista.
These days, however, Nokia is not in the news for its smartphones, but rather its feature phones. The Finnish brand has been reviving and reimagining some of its most popular and beloved feature phones, which have found a surprising number of takers, from those looking to pocket a piece of nostalgia to youngsters who want to try something new and retro at the same time.
The Nokia 3310. (Image: News18)
In fact, in India, Nokia officially sells more feature phones than it does smartphones. On its official website, Nokia has listed 16 feature phones — including reimagined icons such as the 3310 and 6310 — and just eight smartphones, ranging from Rs 5,500-29,999.
To understand this trend, I reached out to HMD Global — is the focus on feature phones a happy accident, or was it always a part of the larger plan to bring back the Nokia Nostalgia?
Sanmeet Singh Kochhar, HMD Global's Vice President for India, Middle-East & Africa, says while nostalgia was a factor, the company also took this decision as it has observed a growing interest and demand for premium feature phones in the backdrop of a rising 'digital detox' culture.
We are proud to bring the classic iconic Nokia heritage combined with innovation in the feature phone space … many people, especially young people, now prefer a simple secondary phone that serves the basic purpose, to take breaks and disconnect from the virtual world and social media," Kochhar says, adding, "All these devices have popular features of the 90s, iconic games like Snake in a modern avatar."
Of course, it didn't hurt that Nokia was the official brand of choice for James Bond in his most recent flick, No Time To Die. "It was indeed a great association for us," he says.
But mostly, as per Kochhar, the exploding popularity of Nokia's feature phones is down to the fact that "there is a growing realisation that excessive use of smartphones all day isn't too healthy."
 Where does that leave Nokia's smartphone ambitions? At least globally, the company has consistently released flagship-quality models. But in India, the company appears to have limited itself to a more budget-conscious segment, with the most expensive model, the G60 5G, priced at Rs 29,999.
The Nokia G60. (Image: Nokia)
"India is a key market for Nokia phones where we have many loyal fans," Kochhar explains.
"Our smartphone strategy (for India) is to focus across segments with a robust portfolio that caters to all our audience. We build devices that last — our smartphones are of quality European make, sporting an ad-free UI, quarterly security updates, and longer battery life," he says.
That said, "the budget segment has tremendous potential in a market like India," and Nokia is keen on providing a "quality, hassle-free experience."
"All our smartphones provide a clean Android OS, an ad-free UI, longer battery life — with most of the phones offering a competitive three-day battery life, and twice more security updates than our competition," Kochhar adds.
Nokia offers its customers a 3-3-2 promise — 3 years of OS and security updates, and a 2-year warranty. (Image: News18)
Nokia is also looking at India as a strategic manufacturing and export hub, Kochhar adds. "India is a sourcing and manufacturing destination, and we are delighted to be able to play a role in realising the government's vision of 'Make in India' and a 'Self-reliant India'."
According to him, nearly all Nokia phones sold in India — the C and G series and the feature phones — are made in India. "We had announced last year that India would be an export hub for us. We have already started exporting Nokia 105 to other markets and we are planning to export a few other feature phone models as well as our range of smartphones soon," he adds.
Kochhar says Nokia is once again the king of feature phones, leading the segment in India for two years straight. "We have been No. 1 in volume in the third quarter as well, and have remained No.1 in value throughout 2022, according to the IDC reports," Kochhar says.
Globally, he says, Nokia's entry segment and smart segment revenues grew by 17 percent each between 2020 and 2021.
"Nokia mobile is one of the longest-standing mobile phone brands in India and globally… premium Nordic design and craftsmanship is in our DNA, which is why we work hard to deliver thoughtful, purposeful designs for every budget. We strive to deliver maximum quality across all price points," Kocchar adds.
Find latest and upcoming tech gadgets online on Tech2 Gadgets. Get technology news, gadgets reviews & ratings. Popular gadgets including laptop, tablet and mobile specifications, features, prices, comparison.
latest videos
God of War Ragnarok Review
A Game Failed by its Developers : Overwatch 2
Call Of Duty Warzone Mobile: The Next Big Thing In Mobile Gaming
Ubisoft…Please Stop!!
PUBG Mobile: The Game Indians Miss And It's Impact
What Makes ANY First Person Shooter Game GOOD???? ???? ????
The WORST Game of 2022 ????????????
The Game That Hasn't Aged: Sunset Overdrive
PlayStation 5 Buying Guide (Hindi+English): All Details To Know Before Buying Your FIRST PS in 2022
Marvel's Spider-Man Remastered PC Game Review
Nokia
HMD Global targets both smart and feature Nokia phones in the African market
Nokia drops to No 10 among all smartphone manufacturers
Nokia targets Indian Nimbuzz users with new marketing campaign
Nokia finally confirms to re-enter smartphone business in 2017: What we know, so far
Nokia could soon launch two smartphones with QHD displays and Snapdragon 820 chipsets
Nokia smartphones in 2017 may be dead on arrival because the "real Nokia" has moved on
NASA
Watch: NASA shares images of the 'Winter Wonderland' Mars becomes as temperatures dip 123 degrees below zero
Neuralink
Elon Musk's Neuralink: Two neurosurgeons weigh in on the feasibility of Musk's brain implant and its potential
Neuralink
What is Neurotechnology and Brain-Computer Interface, the tech that Elon Musk's Neuralink uses?
SpaceX
SpaceX inches closer to an orbital launch attempt,  test-fires its Super Heavy rocket for its longest duration
Copyright © 2023. Firstpost – All Rights Reserved.
Terms of usePrivacyCookie Policy