Today's E-Paper
MD Shorts
E-Paper
Shorts
Subcribe to Mid-day Gold with just Rs. 899 /Year
Updated on: 23 December,2022 06:21 AM IST &nbsp|&nbsp Mumbai
Dipti Singh | dipti.singh@mid-day.com
Educationists welcome curbs on cells, but say teaching kids about responsible use of internet a must
Students should be sensitised to cyber safety and technology addiction, believe many. Representation pic
Was the government's decision to ban mobile phones in schools made in haste? The Parent Teacher Association (PTA)-United Forum points to the crucial fact that children can access online content outside of schools. Principals mid-day spoke to favour the ban but feel there is a need to sensitise children to cyber safety.
 
Arundhati Chavan, president of PTA-United Forum, said, "Our government chose to ban mobile phones in schools just because someone asked to or mentioned how the Internet is causing sexual offences among students and distracting them from their studies. However, has the government discussed this with the experts, counsellors or other stakeholders, including parents? "What good is this ban if children can access phones beyond the school premises?"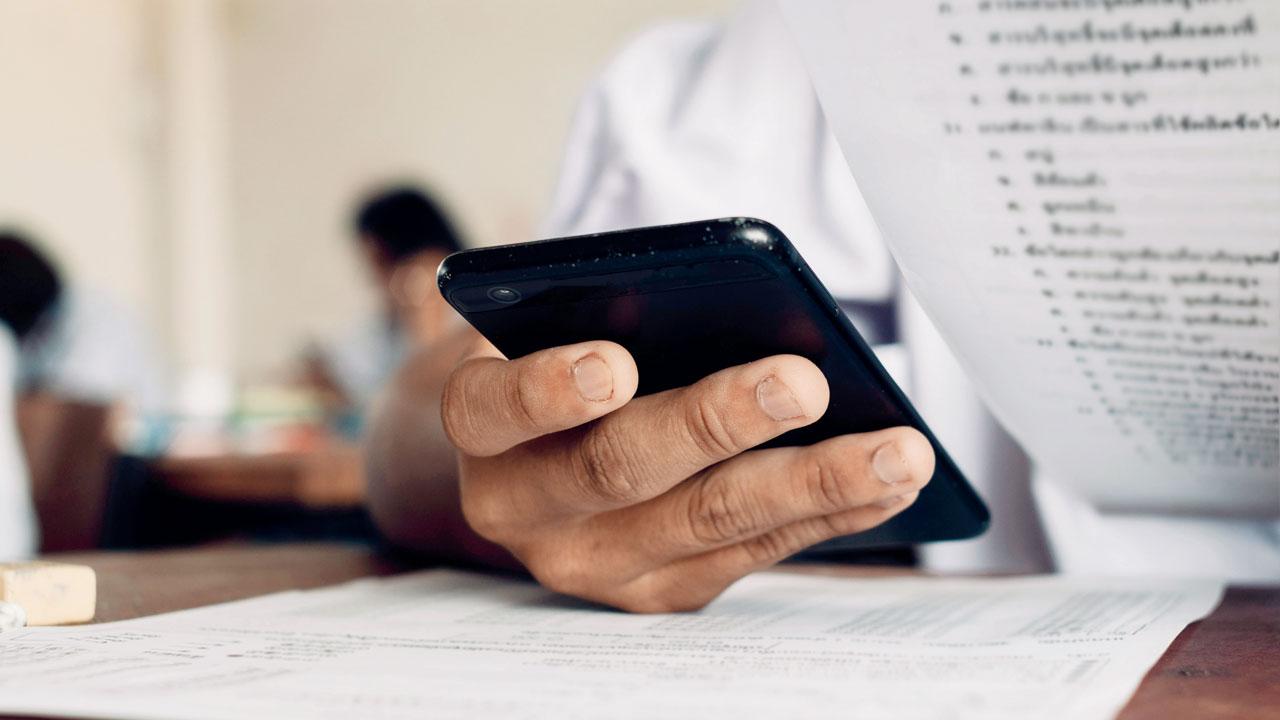 School principals believe that students should be made aware of the benefits and harms of technology. Representation pic
Chavan said something else would be more efficient and ensure that children are away from the unnecessary online content during school years. "Parents should not give children mobile phones at a young age. If for some reason, parents must give their child a phone, they should not opt for a smartphone, as the purpose is to make calls and send text messages. I am not against the decision, just that I feel this is a decision made in haste, without giving any serious thought to it."
Also Read: Maharashtra: Mobile ban in schools to curb sexual crimes, says Devendra Fadnavis
Sapna Shah, a parent from Malad, praised the government for the ban. She said, "Children are nowadays only interested in checking social media platforms, and how many likes and shares they have got. Because of easy access to the internet on the phone, many children pick up slang words and foul language."
The head of schools believe that students should be made aware of the benefits and harms of technology. "With great technology comes great responsibility," said Principal Radhika Sinha of Aditya Birla World Academy (ABWA). "Having easy access to a mobile phone and the Internet can have its benefits as well as drawbacks. It is important for parents as well as schools to observe and be watchful of the device's use by children. In today's digital world, it becomes imperative that we make children responsible for how they use these gadgets," she added.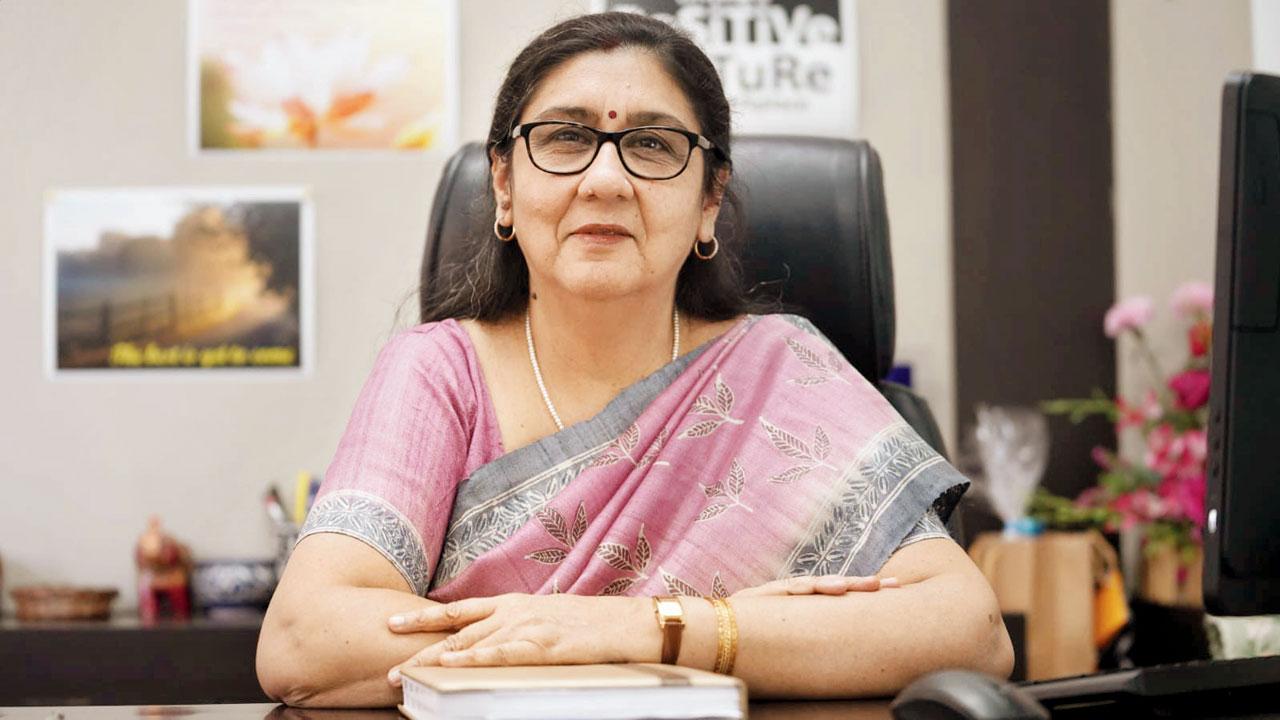 Principal Radhika Sinha of Aditya Birla World Academy (ABWA)
ABWA does not allow students of Std VI-X to carry mobile phones to school, she said, adding, "If there is a genuine requirement and the parent has consented, we have in place a system whereby students deposit the phone with school security in the morning and collect it while leaving." "The students of Std XI and XII are allowed to bring their phones, and the onus is on them to be mindful of its usage. They are not permitted to use the phone within the campus unless permitted by the teacher for a valid reason," Sinha explained. The academy conducts regular sessions on cyber-safety and technology addictions to help students become aware of the perils of technology overuse, she said.
Principal Madhu Wadke of Gopi Birla Memorial School, Malabar Hill, said the ban is a bold step that will help maintain discipline and order. "Students will have no distractions, which in turn will result in better grades. However, this will not eradicate crimes, as cyberbullying also often occurs outside of school hours and premises."
The school allows phones in case of a special request, so that the "working parents can track their wards after school to ensure that they are safe". Wadke also believes in responsible use of technology, as it "has many pedagogical and learning advantages. We must teach students to learn how to use technology responsibly. The need of the hour is to know how to balance the benefits and risks of technology in the way that best supports the students," Wadke said.
Principal G Vani Reddy of RBK International School said she fully supports the government's decision. "We understand that technology and mobile phones are crucial parts of our lives. However, schools provide the required technology for students' educational needs, and phones are not needed to meet curricular outcomes," she added.
She said, "Banning cell phones at school is extremely crucial to aid the teaching-learning process. It will also help in addressing the growing concerns of its misuse in and around schools, its effects on mental health, and in maintaining schools as a safe and orderly space for learning and reducing educational inequality among students." Reddy said the ban would be beneficial only if all stakeholders strictly adhere to the rules.
"It's a known fact that the presence of cell phones in classrooms could affect students' academic performances, and contribute to higher rates of academic dishonesty and cyberbullying. There will be a negative impact on student behaviour, learning and well-being," Reddy added.
A Std IX student from a school in south Mumbai, said, "There was a time when everyone blamed TV for children's behaviour. Did they manage to stop or ban television? If we are not allowed mobile phones at school, will they monitor our cell phone usage outside? Just because something happened somewhere, not all the schoolchildren should be penalised. Both my parents are working and I need a cell phone to communicate with them, especially in times of dire need."
A student of a First Year Junior College does not have a smartphone, but a basic one for calls. The youngster recalled, "In our school, we were asked to submit our cell phones before getting inside the classroom. I got my first mobile phone when I was in Std VII. My parents do not give us internet access. Even now, I have a basic cell phone even today, so I can access my social media platforms only when I am at home where I have access to a computer."


• This is our original content. Please fill up the form for authorized use of the content.
Captcha Code
Captcha Code
>