Apple's Spring event is now over, and the company announced a slew of new products. The event clearly focused on Apple's powerful chipsets, including the new M1 Ultra, which is present on the new Mac Studio desktop.
The event began with Apple showcasing the iPhone 13, iPhone 13 Pro in new green colour. This was followed by the much awaited iPhone SE (2022), which now has a slightly higher starting price at $429. But for India, the new iPhone SE starts at Rs 43,900, which is actually in the same range as the iPhone SE 2020. The older version's starting price was Rs 42,500 when it was introduced in April 2020. The new iPhone SE is powered by the A15 Bionic chipset along with 5G connectivity and an improved camera and battery life, which was expected. It retains the same 4.7-inch display.
The iPad Air was announced as well. It is now powered by the M1 chip and comes with 5G connectivity. The iPad Air now sports a 12MP ultra-wide front camera with support for Centre Stage on FaceTime. The starting price is $599 and in India it starts at Rs 54,900 for the WiFi only version, which is the same price as the older iPad Air. The WiFi+Cellular models will start at Rs 68,900.
Apple has also announced a new Mac Studio with a new and much more powerful M1 Ultra chipset. This is one of the most powerful desktops from the company till date. It will also come with the M1 Max chipset option. The desktop is aimed at professionals and will includes support for upto 128GB RAM on the M1 Ultra variant. Finally, it showcased a new Studio Display, which is also aimed at professionals. It has also hinted that a new Mac Pro is on the way.
The Mac Studio starts at Rs 1,89,900, and Rs 1,70,910 for education. Other configurations will cost more. The M1 Ultra variant of the Mac Studio starts at Rs 3,89,900. The Apple Studio Display starts at Rs 1,59,900, and Rs 1,43,910 for education.
Apple also showcased a new Magic Keyboard with Touch ID and Numeric Keypad for the Studio Display, which will cost Rs 19,500, the Magic Trackpad Rs 14,500, and Magic Mouse at Rs 9,500 in the new silver-and-black colour option.
Mac Studio with M1 Max starts at $1999 while the M1 Ultra version starts at $3999. The Studio Display starts at $1599. Apple's new Mac Studio and Studio Display will be up for pre-orders from today and be made available from March 18.
The Studio Display is here. It has an all-screen design with narrow border, an aluminium body. The stand allows users to tilt the screen up to 30-degree. Users will have the option of wall mounting the display in either portrait or landscape mode. This is a 27.5-inch display and Apple is calling this a 5K Retina Display. It comes with an anti-reflective coating. It has an A13 Bionic chipset inside as well. The Studio Display has a 12MP ultra-wide camera seen on the iPad as well. This one also supports Centre Stage feature for FaceTime calls. It comes with an array of studio quality mics as well. It has a high-fidelity six speaker audio system. The speakers also support Spatial Audio along with Dolby Atmos.
Studio Display has 3 USB-C ports to connect to peripherals. It has a Thunderbolt port as well, which when connected to a MacBook Pro, it can also be used to charge the MacBook at 96W.
Apple Mac Studio will come with M1 Max and M1 Ultra chipset option. The Mac Studio is a high-performance deskop with a single aluminimum body in a small compact form factor. It has a unique double sided blower to handle the thermals. The Mac Studio has four thunderbolt ports, two USB-A ports at the back and 2 USB-C ports at the back (the M1 Ultra version's ports are Thunderbolt 4 as well), a 10G Ethernet port, an HDMI port and an audio jack as well. The Mac Studio comes with WiFi 6 and Bluetooth 5.0 built in. The Max Studio with M1 Ultra will support up to 128GB RAM, while the M1 Max will support a maximum of 64GB RAM. The maximum storage capacity support is 8TB SSD. The Max Studio can also play 18 8K streams together. The Max Studio with M1 Ultra is faster than Apple's top of the line Mac Pro as well.
Remember this is a desktop aimed at professionals such as artists, musicians, designers, 3D artists, scientists, etc. This is not a desktop for regular users.

Apple showcases M1 Ultra chipset for desktops. So M1 Ultra is building on the M1 Max and allowing Apple to connect two M1 Max processors. The reason Apple can do this is because M1 Max has a special design two die design that allows for this connectivity with another M1 Max. M1 Ultra has a 114 billion transistors, which Apple claims is the most on a personal computer. M1 Ultra has a 20-core CPU and 64-core GPU. It has a 32-core Neural Engine. It is nearly 8 times faster than the M1 chipset. Apple also claims it can deliver the peak performance, while using much less power compared to traditional PC chips.
Apple is showing off the revamped iPad Air for 2022. It now has the M1 chipset, which is an 8-core CPU. The new Air is two times faster than the Windows 10 laptops in the same price range, according to Apple's claims, which is huge. The M1 chipset has a 16-core neural engine on the iPad Air. The iPad Air now gets a 12MP ultra-wide camera, and supports centre-stage on FaceTime. Now all iPad models feature Centre-stage. And yes, the iPad Air does get 5G connectivity as well. The iPad Air also gets support for Second Gen Apple Pencil.
The new iPad Air is made of 100 per cent recycled aluminium, according to Apple. It will continue with Touch ID support as well like the previous version. The new iPad Air is up for pre-order at $599. The Apple iPad Air comes in new pink, blue colour options along with space grey.
The iPhone SE is here. As expected it runs the A15 Bionic chipsets which has a four-core GPU. The same chipset is also powering the iPhone 13 series and the iPad mini. It also comes with support for features like Live Text. As expected it comes with 5G support and a better battery life. It comes with the aluminium glass design and the same glass as the iPhone 13, which Apple says is tougher and will offer better protection. It comes with Touch ID as well. Comes in Red, Black and White.
The iPhone SE (2022) now has an IP67 rating as well. While it continues with the single camera at the back, Apple says it comes with features seen on the iPhone 13 such as new Photo moods, HDR 4, etc. It will get run the latest iOS 15, of course, and Apple says it will get updates for years to come. There's no more plastic wrap either with the box in keeping with Apple's environmental efforts.
The price: iPhone SE now starts at $429, so yes, it is slightly more expensive than previous iPhone SE variants.
The green colour iPhone 13 and Alpine green for the iPhone 13 Pro is official. These will be up for pre-orders starting today.
The Apple Spring event has begun. Apple CEO Tim Cook on stage talking about Apple TV+. Friday Night Baseball is coming to Apple TV+. These games will only be on the streaming service.
If you are planning to get a new iPhone, which would be your pick right now, purely from a design perspective: The iPhone 13 mini or the iPhone SE 2022? The iPhone 13 has a 5.4-inch display, while the new iPhone SE will likely continue with the 4.7-inch screen. The new iPhone will also run the A15 processor and include 5G support. Of course, there will be a price difference, the iPhone SE 3 2022 will have a starting price lower compared to the mini which starts at Rs 69,900. Remember, the last iPhone SE started at Rs 42,500, which did make one of the most affordable iPhones in the market.
While the Apple event takes place tonight, if you are in the market for a new iPhone or iPad or MacBook or Mac, our advise: Best to wait till the next products are announced and the new lineup makes its way to India. Especially if you've been considering an iPhone SE, it would be better to wait and see how the new iPhone SE 3 is priced. Read more on that here.
Apple iPhone SE 3 could get support for MagSafe charging, and will likely have an improved battery life. The phone will also get a Ceramic Shield body. This information does come from a new set of leaks comes via the Korean blog Naver and needs to be taken with a pinch of salt. It won't be surprising if Apple does improve battery life on the new iPhone SE, given it has done this for the iPhone 13 series as well.
Noted Apple analyst Ming Chi-Kuo of TF International Securities has posted his predictions on the upcoming iPhone SE 3. He wrote on his Twitter page that the iPhone SE will continue with the 64GB, 128 and 256GB storage options, it will be powered by A15 and support 5G (both mmW & Sub-6 GHz). It will come in white, black and red colour options. The design and form factor will be similar to existing iPhone SE, so yes, Apple will continue with the 4.7-inch screen on the iPhone SE 2022 as well. Kuo also thinks that the 13-inch MacBook Pro is not happening.
Some predictions for the coming new iPhone SE:
1. Mass production in Mar'22.
2. Estimated shipments of 25-30 mn units in 2022.
3. Storage: 64/128/256GB.
4. A15 & 5G support (mmW & Sub-6 GHz).
5. Casing: white, black, and red.
6. Similar form factor design to current SE.
Apple event starts at 11.30 pm IST, which is 10 am PST. The event can be streamed on Apple's website using the Safari browser on any Apple device, be it the iPhone, iPad or MacBook or Apple TV. Apple is also hosting a live stream on its YouTube channel as well for those who prefer this method. The event starts in another four hours or so.
While there's a lot of speculation around what Apple will launch at the event, given the company's product timeline, it is clear what products will not be making an appearance at the event. The new MacBook Air is not expected, nor is the Apple M2 Silicon processor, though it has been in testing. Apple could showcase a 13-inch MacBook Pro with the updated M1 Pro, M1 Pro Max processors, but again we will have to wait and see if this is the case. The Apple VR/AR headset is also not expected at today's event, and will likely be shown at WWDC in June.
Then again, Apple is known to have surprise announcements at each event and will likely have that 'one more thing' at this event.
Apple is also expected to showcase a new iPad Air at the event as well. This time the iPad Air will get 5G connectivity and likely run the A15 Bionic processor as well. The last iPad Air launched back in 2020 and so the lineup is due for an upgrade.
The Apple Store has gone offline ahead of today's event. While you can still open Apple's website, but clicking on any link will take you to the usual holding screen that says: "We are making updates to the Apple Store. Check back soon." Apple will hold its highly-anticipated "Peek Performance" event at 11:30 pm IST. The company is expected to announce a bunch of new products, including a third-generation generation iPhone SE, a new iPad Air with M1 chip, and a high-end Mac mini.
A new high-end Mac mini could also be unveiled at Apple's Peek Performance livestream. Both Bloomberg's Mark Gurman and analyst Ming-Chi Kuo have confirmed this, noting that it could launch with an M2 or M1 processor. "I'm told from a developer source that Apple has been testing multiple Macs with a new chip in recent weeks that includes an eight-core CPU (four efficiency cores and four high-performance cores) and 10 GPU cores," said Mark, in his Power On newsletter.
According to him, Apple has been testing the new chips on machines running macOS 12.3, which should be released in the next week or two. The company has also been testing it with a future macOS 12.4 and macOS 13 and will be previewed at WWDC 2022 in June.
The iPhone SE 3 is the key focus for today's event. It is expected to come with the new A15 processor, 5G connectivity, improved cameras, as the key features. There's also been talk that the iPhone SE 3 will be more affordable. But given how Apple usually prices its products, this is unlikely to be the case. Remember, the older iPhone SE 2020 started at Rs 42,500 when it launched back in 2020. So Apple will likely stick to this price range or it could go higher.
Apple hosts the event on its official website, and it can also be streamed live on the company's official YouTube channel. Those with an Apple device such as the iPhone, iPad or a MacBook or Apple TV can stream the event directly from the Apple website. The event can also be streamed on YouTube on any other non-Apple device.
The event start at 11.30 pm IST or 10.00 AM PST. This will be a two hour long keynote.
Apple's held its big event today where new devices were showcased. The iPhone SE 3 or the new iPhone SE as Apple called it, comes with 5G connectivity, A15 chipset, and an improved camera at the back. The new iPhone SE will up for pre-orders in India from March 11, and go on sale on March 18. The starting price is Rs 43,900 and it comes in 64GB, 128GB and 256GB options.
The iPad Air with 5G will go on sale on March 18 as well. It comes at a starting price of Rs 54,900 for the WiFi only variant. It has only two storage options: 64GB and 256GB. The iPad Air now comes in space grey, starlight, pink, purple, and blue finishes. Apple has also improved the front camera on the iPad Air. The tablet is now powered by the M1 chipset, and not the A series processors as previous variants.
Finally, Apple showcased its most powerful desktop till date: The Mac Studio which is powered by a new M1 Ultra chipset, which combines two M1 Max chipsets thanks to new architecture and technology. There's another variant of the Mac Studio desktop with the M1 Max chipset as well. The Mac Studio is aimed at professionals and will come with up 128GB RAM options on the M1 Ultra versions.
Apple also showcased the Studio Display as well, which has its own A13 Bionic processor and this is a 5K Retina Display. It can be wall mounted  and is aimed at professionals as well, who need such a powerful screen in their line of work. The display can also connect to MacBook Pro and charge it at 96W.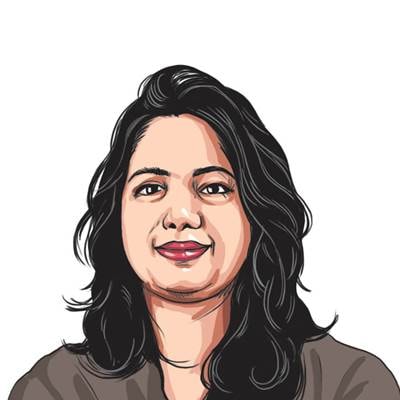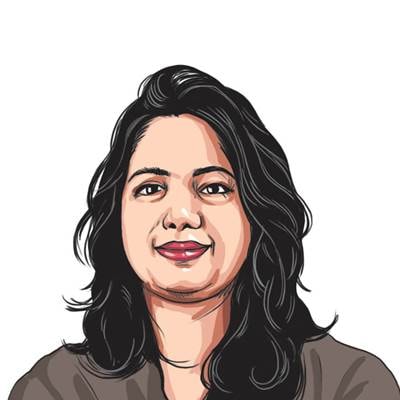 Shruti DhapolaAssistant Editor at Indianexpress.com and looks after the Indian Expre… read more